Welcome to TriLakesWI.com formally TriLakes-WI.com this website offers area information mostly about the Tri-Lakes WI; Lake Arrowhead, Camelot Lake, Sherwood Lake and Rome Township Wisconsin but also surrounds areas as well. Some of the info includes Cities, Towns, Counties, Townships, Lakes, Public Land, Creeks, Local Features including Wisconsin Rapids, Nekoosa, Friendship, New Rome, Hancock, Adams County, Woods County, Juneau County, Waushara County, Portage County, Lake Petenwell, Twin Lakes, Leola Marsh Wildlife Area, County Parks, Big Roche-A-Cri Fishery Area, Fourteen Mile Creek, Big Roche-A-Cri Creek, ATV Routes, Golf Courses, Snowmobile Trails, Room to Roam Dog Park and more…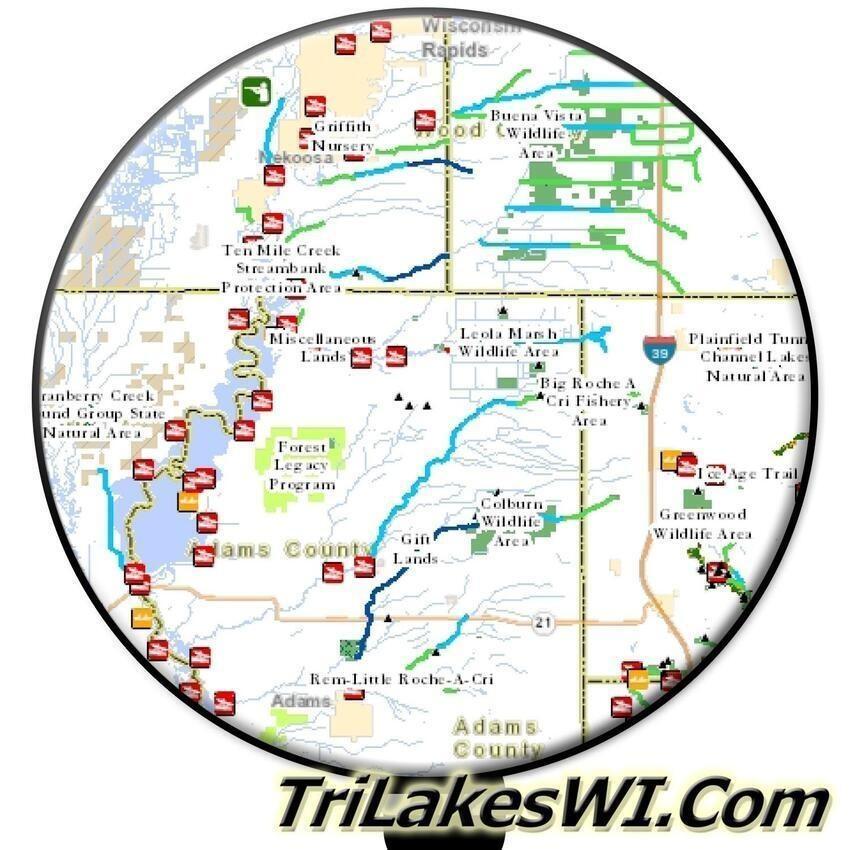 Rome Township Wisconsin
Featured Video
Twin Lakes Frontage with Lake Petenwell Boat Slip
Lake Arrowhead also known as Manchester Lake (according to the official Wisconsin Lake Book by WI Department of Natural Resource) It is the second largest of the Tri-lakes with about 350 acres of water and a max depth of 30 ft. The Tri-lakes are all heavily subdivided and have covenants and some areas have association fees Lake Arrowhead is probably best known for it's golf course, Lake Arrowhead County Park andShermalot Water Ski Show. The Lake Arrowhead Golf Course consists of 2 courses; the original, "The Pines Course" & "The Lake Course" which has more water hazards. Both of these golf courses are 18 holes and have been recognized by Golf Digest as 2 of the better courses in the country including a 4.5 star rating on The Pines Course.
Lake Camelot is the largest of the Tri-lakes with a sand bottom, about 445 acres of water, a max depth of 24 ft. and an average depth of 9 ft. Fourteen Mile Creek flows into the lake on the east end, continuous to where Lake Camelot & Lake Sherwood meet on the west end where the dam is located then turn back into the creek and into Lake Arrowhead a short distance down. Spend a day atLake Camelot County Park located on the south end near the middle of the lake.
Lake Sherwood also known as Deer Lodge Lake because the Tri-Lakes Deer Lodge. Sherwood is the smallest of the Tri-lakes with about 246 acres of water and a max depth of 27 ft. and an average depth of 10 ft. It's fed by Spring Brook which flows into the lake from the northeast. You would think that Lake Sherwood would be the home of Shermalot Waterski show but that is on Lake Arrowhead.
Twin Lakes it's about 60 acres of water and an unknown max depth and an unknown average depth. Right across the street about 1 city block down is Twin Lakes boat launch on Lake Petenwell. Now Twin Lake Development is kind of interesting because the Lakefront Lots get dock space on Petenwell Flowage. Twin Lakes Nature Preserve is located just north of the lakes right by Twin Lakes Boat Lauch on Lake Petenwell.
Lake Petenwell
Lake Petenwell is Wisconsin's second largest body of water (23,000+ Acres), created by Wisconsin River Power Company in the 1940s by building a Hydroelectric Dam on the Wisconsin River. Lake Petenwell is also known as Petenwell flowage. It has plenty of fine waterfront real estate around Petenwell County Park which is one of Central Wisconsin's most popular parks. Just south of the Petenwell Dam, is Castle Rock Lake, which is WI 4th largest lake. Theses two lakes, along with the Wisconsin, River separate Adams County & Juneau Cty.
Area Information for Rome Township and Surrounding Areas
Room to Roam Dog Park
The Pines Golf Course
The Lakes Golf Course
ATV Routes
Snowmobile Trails
Lake Camelot County Park
Lake Arrowhead County Park
Lake Sherwood County Park
Monroe Prairie Recreation Area
Adams County
Lake Arrowhead
Twin Lakes Boat Launch on Lake Petenwell
Lake Petenwell
Lake Camelot County Park
Juneau County
Petenwell Wilderness Park
Adams County
Wood County
Juneau County
Waushara County
Portage County
Adams County
Rome Township
Big Flats Township
Monroe Township
Colburn Township

Juneau County
Armenia Township
Necedah Township

Wood County
Port Edwards Township
Saratoga Township
Lake Petenwell aka Petenwell Flowage
Twin Lakes
Arrowhead Lake
Sherwood Lake
Camelot Lake
Dorro Couche Lake - Private
Juneau County
Yellow River
Little Yellow River
Adams County
Leola Ditch Class 2 Trout Stream
Chester Creek Class 1 Trout Stream – Link to Petenwell
Big Roche-A-Cri Creek Class 1 & 2 Trout Stream
Fourteen Mile Creek
Spring Brook
West Petenwell Ditch Class 2 Trout Stream
Dead Horse Creek
Carter Creek Class 1, 2 and 3 Trout Stream

Wood County
Ten Mile Creek Class 2 Trout Stream
Ten Mile Creek Ditch Class 3 Trout Stream
Sevenmile Creek Class 1 Trout Stream
Fivemile Creek Class 1, 2 & 3 Trout Stream
Lynn Creek Class 1 Trout Stream
Moccasin Creek Class 2 Trout Stream
Bloody Run Creek Class 1 Trout Stream

Juneau County
Cranberry Creek
Creeks in Necedah Wildlife Refuge
New Rome
Wisconsin Rapids WI 54494
Port Edwards WI 54469
Nekoosa WI 54457
Hancock WI 54943
Bancroft WI 54921
Friendship WI 53934
Arkdale WI 54613
Monroe Center
Big Flats
Necedah WI 54646
Adams County
Rome Township

Twin Lakes Nature Preserve
Lake Camelot Public Access
Leola Township
Central Wisconsin Grassland Conservation Area
Leola Marsh Wildlife Area
Big Roche-A-Cri Fishery Area
Big Flats Township
Forest Legacy Program


Monroe Township

Monroe Town Park
Lake Petenwell County Park
Colburn Township
Colburn Wildlife Area
Wood County
Tem Mile Creek Streambank Protection Area
Steambank Easement Program


Juneau County

Necedah National Wildlife Refuge
Cranberry Creek Mound Group State Natural Area
Juneau County Land
Petenwell Wilderness Park
Yellow River Juneau County Forest Addition
Meadow Valley Wildlife Area


Portage County


Buena Vista Wildlife Area
Adams County
Rome Township

Lake Arrowhead Boat Ramp
Lake Camelot Boat Launch
Lake Sherwood Boat Ramp
Lake Petenwell

Chester Creek Boat Landing
Fourteen Mile Creek Walk-In Launch
Twin Lakes Walk-In Launch


Monroe Township

Lake Petenwell

Lake Petenwell County Park Ramps + Safe Harbor
Barnum Bay Petenwell Launch
Juneau County

Lake Petenwell

Deerfield Road -
Petenwell Wilderness Park 9th Street East – Ramp, Concrete Panels, Rest Rooms, Fee Campground
10th St East by Big Bay -
8th Ave Petenwell Dam on Wisconsin River –
Rome Township
Dyracuse Mound aka D'oro Couche
Hamilton Mound
Big Flats Township
Adams County
Rome Township
Big Flats Township
Colburn Township
Leola Township
Juneau County
Armenia Township
Necedah Township